Printer Model

Voron 2.4.r2 Rev.C LDO kit
Extruder Type

Clockwork 2
Cooling Type

Stealthburner
Hi guys,
I was wondering if someone would shed some light on setting up the variables for the Klicky probe dock. The part in the manual regarding this is somehow rocketscience to me.
I have the dock on the left side of the printer. I can manually pickup and dock the probe by jogging the toolhead. I have found that the position X:0 and Y:345 is where this interaction takes place. However if i use these values the docking process fails. The toolhead wants to go out of bounds on X ( the macro does a -30 somewhere) .
I don't understand this part of the manual, and i believe this is why my variables are wrong. Perhaps someone can help me explain this bit.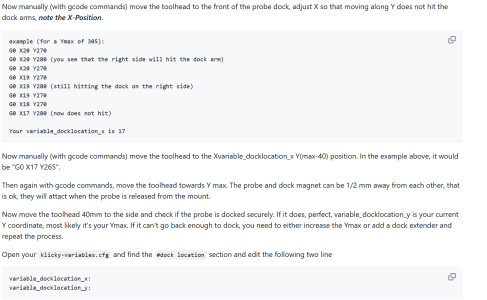 Last edited: