Printer Model

V0.1 with E3Dv6/Orbiter2.0/After-Sherpa
Extruder Type

Orbiter
Cooling Type

Other
Wondering if it's normal to have a slightly irregular first layer on the V0.1.
I've got a pattern roughly traversing the X axis on my first layer. See pictures. I've ruled out the basics (Dirty build plate, uneven bed, uneven build plate, …) and my speculation is that it's the printer head that lifts slightly on Z over that area.
Note also that the squish (in the banding region) is different depending on which direction the print head is going. I.e. every other squishes better, and every other line bulges up a bit.
Could this be related to the play in the MGN7 X-Axis?
Anyone else who has had a similar issue?
(Nevermind the lift in the lower left corner, I pulled the sheet up a bit there).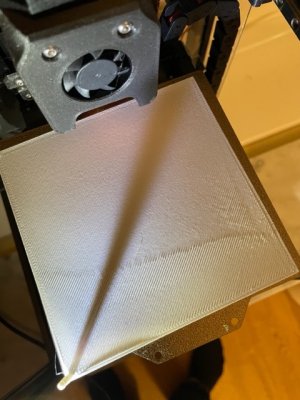 Last edited: