So got a weird one and one I'm struggling with.
The back story... My dad bought a V0.1 from FYSECT, it was a full kit including printed parts. I had checked it over and the components looked quite good. the printed parts looked quite good too, only 1 or 2 of them I would have reprinted but it was only for cosmetic reasons. he started printing with it and it was skipping steps on travel moves.
I gave it a once over and solved that one. he used it for a week and then gave it to me to iron out the kink and do a resonance test to get the best from it.
After the traval to mine (it was strapped in and secure) I did a couple of test prints after checking over the printer and they are all failing?
On travel moves in the Y axis it seems to resonate badly and skips steps sometimes?
I did the resonance test and got this as the result from the Y axis.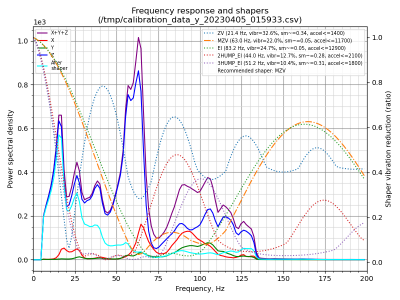 as you can see it is very noisy but I'm not sure what the cause is.
I've loosened the belts and it helped but they are really slack now and doesn't seem right, but it is still doing it although not as bad.
I've checked the frame for squareness, fixings are tight but not too tight, belt alignment from the motors and all the bearings, bearings are not being clamped, rails run smooth as silk, gantry has been checked over, I've even rebuilt the motion part of the printer to see if I was missing anything and it is still the same?
the X axis is spot on and works as expected. (got 18K acceleration)
machine is still running stock settings for speed and acceleration until this issue is sorted.
any hints, area's to look at, suggestions, tips or tricks will be well received!
Thanx in advance!