I'm not new to 3D Printing, but I'm new to building 3D Printers. Because I don't have the capability to print ABS, I signed up for PIF back in 2021 when the queue was super long (figuring it would take around a year), and got my kit back before Stealthburner and Trident R1 dropped.
BrewWeasel was my provider, and so far, everything looks fantastic.
This printer was self-sourced over the course of a year or so (to spread out costs) by obtaining the parts and parts kits (hardware, motors, motion, et cetera) in as few shopping trips as possible to save on shipping. West3D, DFH, and KB3D were my primary vendors.
Colors for this build are:
Frame -- LDO Space Gray
Primary -- Matterhackers Build ABS Black
Accent -- KVP Stellar Blue
I'm kind of kicking around a dark gray also for the skirts and the toolhead parts that would usually be the primary color. KVP Battleship is kind of what I have in mind.
To Kick things off, I put the kids to work opening up hardware and pulling the frame out of the box. The Frame is an LDO Space Gray model, and the Hardware is West3D's BDF Trident hardware kit. There was a bit of a problem in shipping -- The M5x10 Button Head baggie exploded and I gathered them all up and stuck them into a Gridfinity box.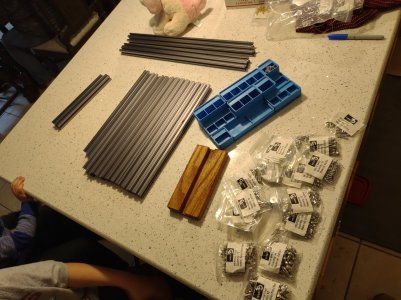 So, armed with my speed square, some miscellaneous Allen Keys, and my wife's pretty, pretty, pink scale, I fought the frame (and the kids).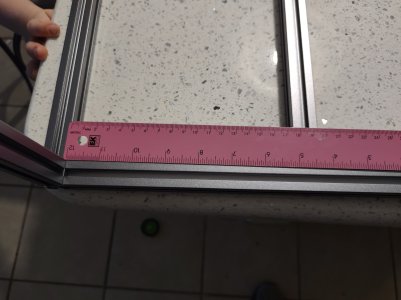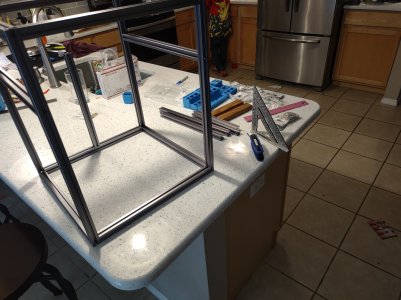 Time for the Front Idlers and the Motor Mounts.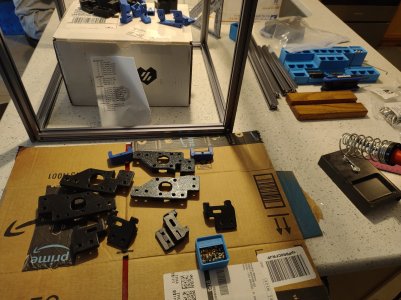 The Motor Mounts went very smoothly -- The only thing missing was the pulley jig (I didn't think to print it beforehand, and my PIF kit didn't come with it). The pulleys are easy enough to eyeball, though.
The Front Idlers? Not so easy. There were many profanities and weeping and gnashing of teeth -- the bearing stack went everywhere when I pulled the bolt and put the adjustment piece on. Several times. After trying things several different ways, I ended up assembling all three printed parts with the adjuster all the way over to one side, and then building the bearing stack a piece at a time while inserting the bolt a little bit at a time to capture each new piece. But, I got it. Eventually. I even spun up Steve's first Trident Build Stream on the TV to see how he was doing those things just in case there was something I was missing.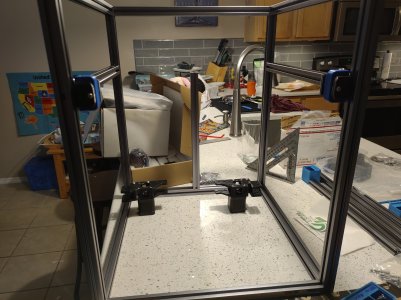 Time to install all of the things. I'm gonna do Tap later and figure now is the time to add the extra fasteners. One of these M3 roll-in T-Nuts had a malformed wallowed-out hole and I had to manhandle that thing back out and replace it. That was not terribly fun.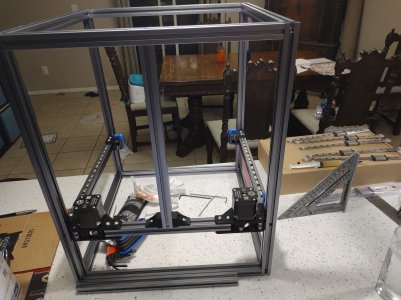 If Star Trek Picard uses 3D Printers as replicators, can I pretend my little Flashforge is a replicator too? "Computer: Linear Rail Jigs".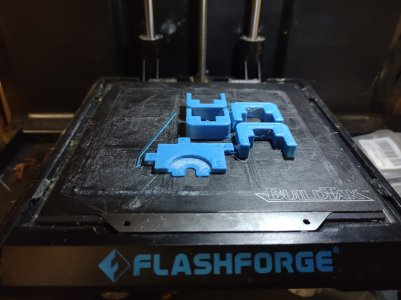 By this point, it was getting kind of late, so I didn't take any pictures until the end. I didn't realize that West3D ships their house brand rails out
fully greased and ready to go,
so that was nice. I got the Y Rails on, put on the Z rails, carriages, and steppers, and managed to put the wrong rear carriage mount (I needed to install the 3 hole version. Also, I needed to put the heat sets in and didn't...) And I missed the part in the manual where it says to not tighten down the nylock nuts on the Z leadscrew nuts. So I gotta fix those when I put the right rear carriage mount on.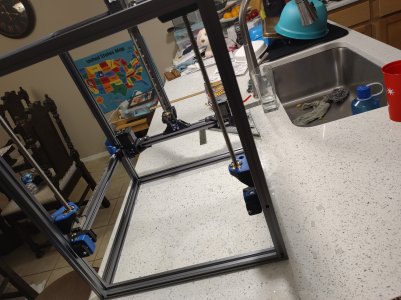 I built the feet the other day and put them on, but didn't take a picture. I'll start with that one for next time.