V0.2 - Formbot Kit Build
Part 1 - Unboxing and cPIF Parts
Unboxed the Kit on my live stream last night -
https://youtube.com/live/qOcGWsB79Wo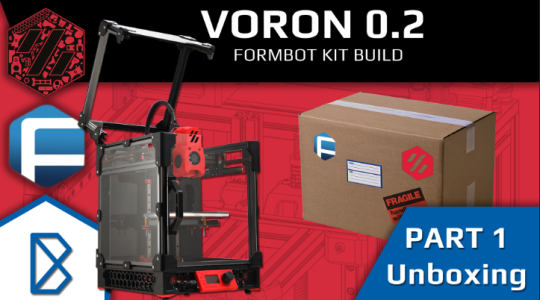 I hope to update the build log with subsequent stream VoDs, videos, and text updates on how it went if it proves to be of interest to others.
Full disclosure the kit was provided by Formbot for making content. I paid for shipping
I'll be building the kit as "stock" as possible and will not any issues I have in the process. I've bought a full extra hardware kit from Sparta3D so if any hardware is missing I can keep going. Same for fans and other things I've noted can have issues in other folks builds.
Fairly happy with the kit contents so far(not having built one before):
-$349 Starting Price
-Kirigami Bed Frame (Not full kit, no RGB LED, pcbs or wagos)
-BTT Pi V1.2 (Only V0 kit I know of with a default Pi alternative included...?)
-BTT SKR Pic
-CHC V6 Hotend (Upgradeable to Dragon/HF)
-Double Sided PEI Sheet
-Crimped Wiring Looms
-Moons Motors
-Stainless Steel Rails
-MIC6 Cast Aluminum Build Plate
-Polycarbonate Panels
-Gates Belts
-Vivedino 60W Silicone Bed Heater
-Stainless Steel Hardware
-Umbilical Board + Harness
-Makerbeam XL Extrusion
-Meanwell 150W PSU
cPIF Parts from Fabreeko came and are looking pretty nice. Thanks Will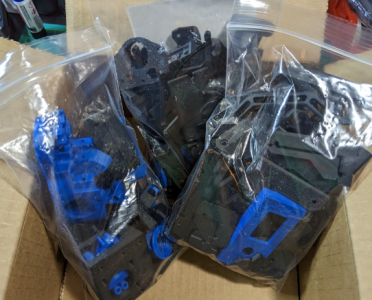 If you have any specific questions about the kit LMK
Unboxed kit organized


I'll probably print up some small parts organizers or dividers for this parts bin so I don't have to fish hardware out of the bags.
I got a nice remnant from a friends kitchen renovation for building the frame

I think in Part 2 I'll cover prepping for the build. More organization, Frame Extrusion Identification, Rail Cleaning & Lubing, and Printed Part Cleanup.
Cheers