New to the community with a smoking hot delivery of a Voron 2.4 R2 kit bought from Fysetc via Aliexpress.
I have an Ender 3 Max, modified with dual Z-axes, Sprite 300 C extruder and hotend, PEI-sheet etc.
It prints PETG really nice, but life pushes us forward and I want to be able to print more advanced filaments which requires more of an high temperature enclosed printer.
I also have got really cheap a Sovol SV03, which I intend to rebuild to an IDEX, but that's another story.
So, after a long time probing the "market", I finally decided to build a Voron 2.4 R2 350 as a base and then do some additional mods.
I also jumped the short path and bought the aluminum kit from Fysetc, if it is working ok I will stay with it, if use it to swap to glass fiber enforced CP-12 which has really interesting temperature coefficients.
Also, the most important part with precious things, the name!
It's name is Goldie, from the golden (well, more yellowish) extrusions that I chose. Don't ask me why on that choice. 😂
Mods that I plan to have in the first setup is:
Klicky probe
Automatic Z Calibration
Managed by a computer, not a Pi (hard time getting one, and want to control the my other printers from same spot)
Sensorless homing
Further on, when Goldie has got a couple of hours under its extruder, I plan to extend it further with at least:
Mosquito high temperature hot end
CAN-bus
LED lights in the chamber
I just have scanned through the packages and comparing to other peoples "Unboxing", all seems to be included.
Of course pictures: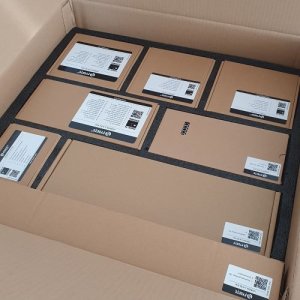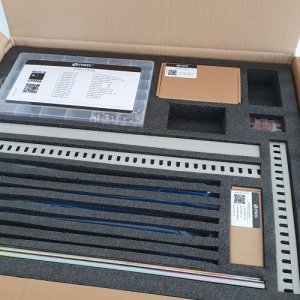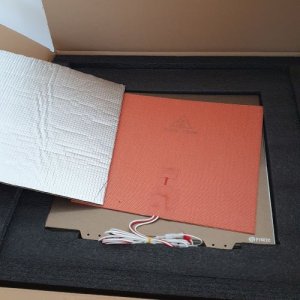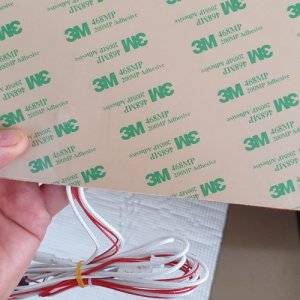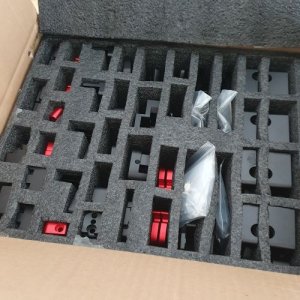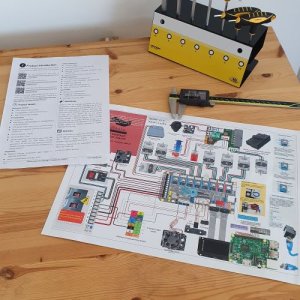 Findings about the kit(s).
No Pi included (as I expected) though the BOM on Fysetc sellers page kind of states it (has an "optional" word after but not clearly stating it is not included)
The real deal with 3M 468MP adhesive on the bed heater
The aluminum parts look good, haven't measured or done any further investigations
The kit ships with a "E3D V6" hot end. Included was two different heat breaks. BOM states nothing about the difference.
One is in all steel (?) and the bi-metal but is it copper and titanium or have they cheated?
Then there was a small transparent plastic thingie which I have no clue what it is for. I can't remember seeing anything about this in the build docs or some of the build videos I watched.
Well that is all for the first post.