#
Voron V0.1 to Tri-Zero rebuild
##
What is a Tri-Zero?
Basically its a Voron v0.1 but with three belted Z instead of a single motor with integrated leadscrew. More information about the project can be found here:
##
The plan
###
V0.1885
My Voron v0 in its current state. Based on a formbot kit with printed structural parts in black PrimaSelect ABS+ on a Prusa mk3s+ and the outer accent parts printed in Prusament Anthracite PETG. This was my first Voron build while I waited for the v2.4 kit to be delivered and now after building it, the v2.4 and also a Trident I have learned so much. So I feel like there are room for improvements on this machine but where is the fun in just rebuilding it as a standard v0.1? When I got tired of waiting for the v0.2 release I decided a Tri-Zero build would be fun, especially after the Tap announcement. The concept of a Tap (or in this case a "boop") would make the three belted Z more viable in a small machine as the v0 is. More so the no longer need of a dockable probe for the Z tilt adjustment.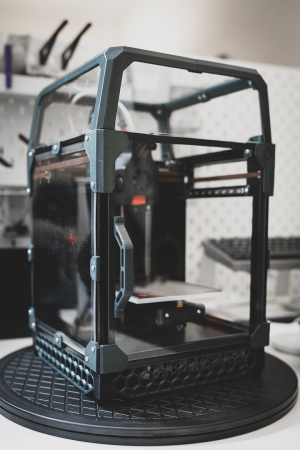 ### First mockup
This is the first mockup version of the build in Fusion 360. I have some plans to modify some of the printed parts. The lower front for example could need some more work to look a little nicer. I would also like to replace the pattern on the side skirts with the more traditional Voron hex pattern. The top hat I'm not sure if I'll stick with the og hat or if I'll go with an extrusion based one. The plan right now is to reuse the black frame but I am contemplating wether to buy a LDO space gray frame or not instead.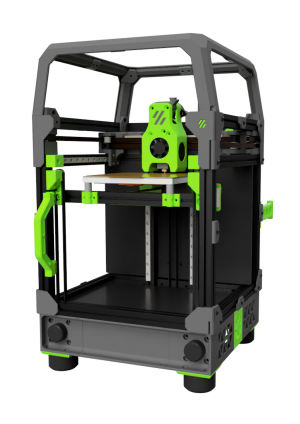 ## Parts ### Part list

- [x] 3x Nema17 39mm stepper motors

- [x] 3x ~500mm GT2 Belt

- [x] 3x GT2 16T Pulleys

- [x]

1x MGN7H Linear rails for Z

No longer needed since the Y rails will also be replaced with Hiwin

- [x] 2x HIWIN MGN7H Linear rails for Y

- [x] 1x HIWIN MGN9C Linear rail for X

- [x] 6x F623 Bearings

- [ ] 3x Spacers for bed

- [x] 1x MCU with minimum 5 drivers

- [x] 1x BTT EBB36 CAN board

- [x] 1x BTT U2C CAN interface

- [x] E3D Revo Voron hotend

- [x] 6x LDO Nutbar for 1515 extrusions

- [x] LDO Fastener kit with black screws

- [ ] "Boop" ### Motors

With regards to space and holding force 39mm Nema17 steppers was choosen. Ended up going with three stepperonline 17HS15-1504S-X1

### MCU

In total 6 drivers will be needed, A, B, Z1, Z2, Z3 and E. Since I will be using a CAN toolhead board the MCU will only need 5 drivers. After some searching I landed on a used SKR 1.4 Turbo. It included 4xTMC2209 drivers and I have one extra lying around from a previous CAN conversion.

### Hotend

The v0 is currently equipped with a Revo Voron hotend and the plan is to stick with that for the rebuild.

### CAN

I will be using an ebb36 with an u2c from Bigtreetech that will be salvaged from my Trident when the fly sb2040 arrives.

### Rails

The Tri-Zero needs two extra MGN7H 150mm rails for the two extra Z. As recommended by the designer of the Tri-Zero the X rails will be upgraded to a MGN9C rail and the old one repurposed for Z. One additional MGN7H was bought.

### Filament

For this build I will be using ASA filament from 3DO. Base color will be anthracite and the accent ratrig green.

### Boop(?)

TBA

### MISC

Belts

Idler bearings

Pulleys

##

Cost

I will sum up the costs later when it's to late to back out of the project.

## Updates ### 2022-11-18

Gathering parts. Main parts sorted and the last smaller pieces will probably be procured within a week or so. Might start printing parts this weekend.

###

2022-11-19

Test print of the mini AB cowling with the 3do Ratrig green ASA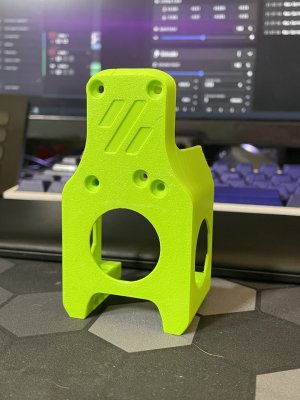 ###

2022-11-21

Ordered the last parts so now everything needed should be on the way. Only thing missing is the spacers for the bed but I have some ideas for that.

Also fiddled around in Fusion an added the more traditional Voron hex pattern on the side skirts. Will also figure out something for the front later.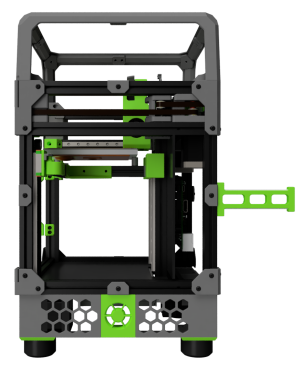 ###

2023-01-16

Slowly everything is starting to come together. All needed parts have arrived and almost all parts (I hope) is printed including the new mini SB.

One big change have been made to the plan as well. I will go BoxZero after all. Even though the new top hat on the v0.2 is better then the old I really don't like the top hat and I do prefer a full frame. The reason I didn't want to go that route before was that I thought that if I'm going BoxZero I might as well do the full Tri-Zerp Plus50 with it's bigger size. But with that most of the hardware and rails would need to be bought again etc. But a standard BoxZero is a good middle ground where I can keep all the rails and everything. Ordered some 360mm makerbeam extrusions since that was the closest size they had precut.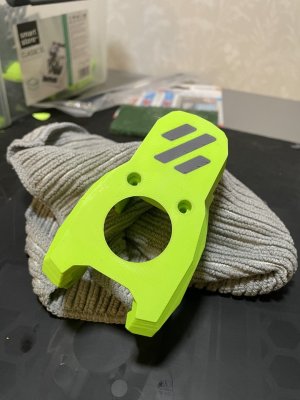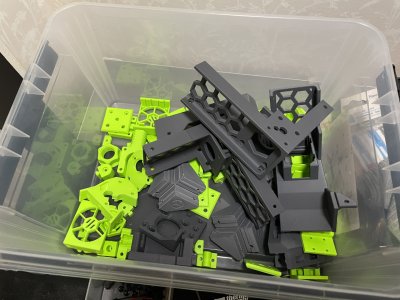 Got to have a matching hex tray of course
Last edited: