I thought I was ordering the correct power inlet, but alas, I did not. So I modified the stock integrated power inlet skirt model to fit the Astrodyne 082.01001.00 that I bought.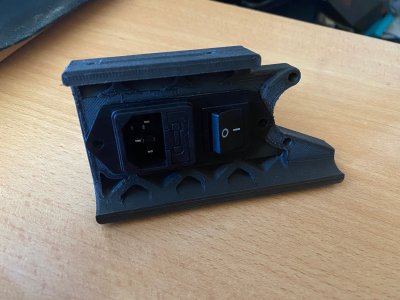 The outside of the module does intrude into the space below the belt guard, so I'll need to modify the guard to clear the mounting screw, but it doesn't hit the motor or pulleys. This skirt uses 2 additional M3 heatset fasteners to mount the power module.
Printed in Nylon CF as that was all I have on hand in black, hence the non stellar print quality. I'll probably reprint it in matching black ABS+ once my Voron is built.
Github:
https://github.com/TobyLies/VoronMods
Side note: I can't get the picture to show up in the README, not sure what I'm doing wrong.