Im sure there will be a million 2.4 builds on this forum, but figured I would add my experience as well, I have zero higher education, I am not and mechanical or electrical engineer. And I thought showing that almost anyone can build a voron might motivate some more people to join and contribute to this amazing project and community.
Back Story:
After working with my poor Wanhao i3 clone (A Balco from a local Aldi store) over the years, and learnining a lot because of my inherint nature to want to modifiy everything. (I even got it to play "Darth Vader" when its ready to print, ahaha)
The printer spent long periods gathering dust as I would get fustrated with it, then regain passion and have a another go at getting it working well.
In its current revision it generally prints PLA very reliably. Other filaments work, but can be a real struggle. (Im sure like everyone, I have roughly a million Benchy's!)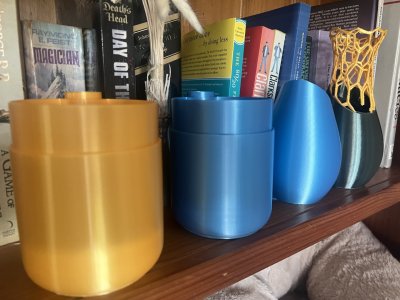 In its current state its got most of the common mods, Z braces etc, and runs off a Duet 2 Wifi controller.